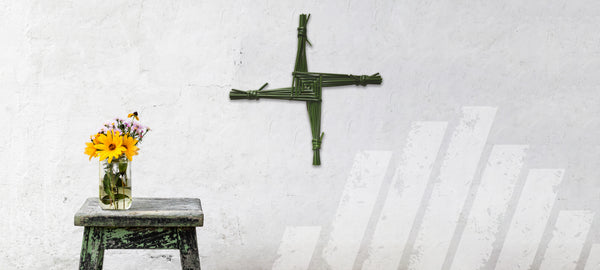 What you need to know about St Brigid's Feast Day
Today marks the 1st of February. We've successfully shaken the January Blues and for many of us, things are on the up and up.
Our days are getting longer, the weather is preparing to get warmer and today is a very special and sacred celebration across the island of Ireland...
Today is St. Brigid's Feast Day!
For those who do not know what St. Brigid's Day is all about, although not as famous as St. Patrick's Day, St. Brigid's Day is a staple Irish tradition.
In fact, as of 2023, St. Brigid's Day has become a public holiday in Ireland, celebrating on the first Monday of February (unless the 1st of February falls on a Friday in which case it will occur then). 
This day marks the beginning of the Spring in Gaelic traditions. In honour of the day that it is, let us walk you through the story behind St. Brigid's Day:
St. Brigid & the Enchanted Cloak
There are several things associated with Brigid, such as Spring and St. Brigid's Cross, but famously, Brigid is also associated with her cloak (or blanket). 
Circa the year 470AD, when searching for a location upon which to build her monastery, Brigid scoped out an area that would offer her a nearby lake for water, a fertile plan for growing crops and an adjacent forest for firewood.
When she approached the King of Leinster with her request for the land, she was refused. Brigid and her sisters prayed that the King would change his mind and show kindness. In the end, she once again met with the King, asking that he give her as much as her "cloak will cover."
The King laughed at the sight of Brigid's cloak, which was too small to be able to build anything on, quite frankly. What he didn't know was that Brigid asked four sisters to take a corner of the cloak each, setting off in different directions.
From sheer will alone, the cloak began to grow, spreading across many acres of land - plenty, for building her monastery on. 
The King was shocked, but ultimately rejoiced as he realised that Brigid was God-blessed. He was so amazed that he became a patron of Brigid's monastery and provided monetary assistance often. Later on, this King converted to Christianity. 
More Facts About St. Brigid's Day
St. Brigid's Day / 1st February marks the start of the pagan festival of Spring, otherwise known as 'Imbolc'.
Imbolc celebrates the arrival of longer, warmer days - and the earliest signs of the Spring season. 
The date is significant as its the midway point between the winter solstice and the spring solstice
'Imbolc' translates to "in the belly" in the old Irish Neolithic language.
Imbolc is one (and the first) of the four major 'fire' festivals, referred to in Irish mythology. The other three festivals are Beltane, Lughnasadh, and Samhain.
Brigid is one of Ireland's patron saints and one of the most famous along with St. Patrick. Brigid was also known as a fertility goddess in Celtic mythology.
Brigid is often referred to as 'Brigit of Kildare'. It has been said that she was the founder of several monasteries of nuns, including that of Kildare. She is also associated with perpetual, sacred flames. You can find a shrine dedicated to her in Kildare.
According to tradition, Saint Brigid was born at Fochart (or Fothairt), near Dundalk in Co. Louth
One of the most common traditions of the day is to make a Saint Brigid's Cross (here's a quick how-to). Saint Brigid's Cross are quite easy to make and traditionally, you would make them on Brigid's Eve, January 31st. Normally you would make the cross from fresh rushes, but straw can be used as a replacement if you don't have rush available. They are made in a cross shape with a square shape in the middle and then four arms coming along each side.
It is believed that these crosses have the power to protect the owner's home from harm.
St. Brigid's cross was used as the idents for RTE television from 1960 to 1990 and was also used as the symbol for the Department of Health. It's still currently used as the logo for An Bord Altranais (the Irish Nursing Board).
Shop our range of St. Brigid's Cross jewellery,
here
. If you liked this blog and would like to learn more about us, our products and Irish traditions, click
here.