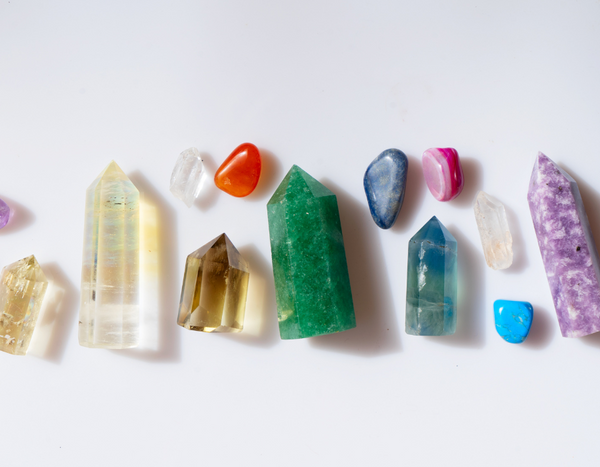 What Your Birthstone Says About You
Your birthstone is a gemstone associated with the month that you were born in. Some believe birthstones to have a certain meaning behind them, as with zodiac signs, while others believe wearing the stone associated with your birth month will help to bring good fortune. 
In recent years, associating a stone with one's birth month has become a popular subject. This originally stems from a passage within the bible, where historians believed that twelve gemstones were present on the breastplate of Aaron, corresponding to the twelve tribes of Israel. Each stone was said to offer its own special power during each astrological period.
It is believed that the tradition, then, of associating a gemstone to a given month began in Poland between the 16th and 18th centuries. Now, birthstones remain a popular concept - for the superstitious and the sentimental. Do you believe in the power of the birthstone?
What's your birthstone? And what does it say about you? Let's see:
January: Garnet
The name 'Garnet' comes from the Latin word 'Granatus' - meaning Pomegranate. Garnets are found all over the world from Brazil to Madagascar, and are known for the great power and beauty that they possess. Garnets have a spiritual significance - embodying the energies of fire, passion, creativity and strength. Garnets are commonly mistaken for rubies. 
- SHOP JANUARY BIRTHSTONE JEWELRY -
February: Amethyst
The Amethyst is a purple-coloured stone that is commonly found within quartz - a substance within the earth's crust. Amethyst stones can be found all over the world, but were solely mined in Russia when they were believed to be highly precious stones, and were often worn by royalty. Amethyst is also said to be connected to the third eye the crown chakra. Amethyst has long been considered a symbol of purity, spirituality and calming energy. 
- SHOP FEBRUARY BIRTHSTONE JEWELRY HERE - 
March: Aquamarine
Aquamarine is of blue-green colour, its name coming from the Latin for 'seawater', with ancient mariners considering the gem to protect them while at sea, ensuring that waves remained calm. Additionally, Aquamarine is said to bring happiness in marriage or courtship, also giving its wearer protection against threats and instilling in them a greater sense of intellect. 
NOTE: Bloodstone is also considered to be a gemstone for March.
- SHOP MARCH BIRTHSTONE JEWELRY HERE -
 April: Crystal
Those born in April are most commonly associated with Crystal - a perfect centrepiece for any jewellery. Of course, Crystals have been long thought to possess healing properties and have been used throughout the course of history as relics of strength, purity and innocence, helping their owner to be strong and practical in adverse situations.
NOTE: Cubic Zirconias and Diamonds are also considered to be gemstones for April. 
- SHOP APRIL BIRTHSTONE JEWELRY HERE -
May: Emerald
Emerald is the birthstone for May and has been a symbol of rebirth and renewal for centuries. From the poetic description of Ireland being known as the 'Emerald Isle', these gemstones are associated with the colour green, when they are found in their purest form. Spiritually, Emeralds are said to provide inspiration, balance, wisdom and patience, as well as promote harmony and peace in one's relationships.
- SHOP MAY BIRTHSTONE JEWELRY HERE - 


June: Light Amethyst
Light Amethyst is the birthstone of those born in June. Light Amethyst is a fairly lighter purple colour, and acts as a guard to its holder against fear and uncertainty. Light Amethyst signifies courage and empowerment and can instill in its holder a sense of confidence, patience and positivity. 
NOTE: Pearls, Moonstones and Alexandrite are also considered to be gemstones for June. 
- SHOP JUNE BIRTHSTONE JEWELRY HERE - 
July: Ruby
The Ruby is the birthstone of July, and has been highly valued throughout history - sometimes referred to as the 'King' of all precious stones. In ancient times, rubies were used as a form of protection to ward off harm. Known for its deep red colour, these gemstones are most known for their association with love and passion - and are symbolic of ambition, emotion and courage. 
- SHOP JULY BIRTHSTONE JEWELRY HERE - 
August: Peridot
Peridot is most commonly recognised as the birthstone for August and is a gemstone found in shades of light green. Peridot stones were worn by Romans to repel 'terror, enchantment and melancholy'. They are generally symbolic of harmony, health and peace. Peridot is sometimes nicknamed the 'stone of compassion', calming situations of escalation.
NOTE: Sardonyx is also considered to be a gemstone for August. 
- SHOP AUGUST BIRTHSTONE JEWELRY HERE -
September: Sapphire
Although found in practically any colour other than red, Sapphire is most commonly seen in a blue colour - as is Sapphire as a September birthstone. It has been worn throughout history to protect people from envy or harm. These gemstones are associated with wisdom, wealth, healing and good fortune and are also synonymous with people who are humble, smart and loyal. 
- SHOP SEPTEMBER BIRTHSTONE JEWELRY HERE - 
October: Topaz
Topaz is commonly seen to be the October birthstone, and while it comes in a variety of colours, Pink Topaz is typically what is used as the gemstone for October. Hundreds of years ago, it was believed by Europeans to thwart magic spells and dispel anger, while people in India considered it bring vitality, beauty and intelligence to those that wore it.  
NOTE: Opal and Tourmaline are also considered to be gemstones for October.
- SHOP OCTOBER BIRTHSTONE JEWELRY HERE -
November: Citrine
Citrine is the birthstone of November - a transparent yellow to brownish orange variety of quartz that has been used in jewelry for thousands of years. Its name stems from 'citron', the French word for 'lemon'. It was historically thought to soothe tempers and calm the wearer. This sunshine-y stone radiates positivity and is sometimes referred to as the 'success stone'. 
NOTE: Topaz is also considered to be a gemstone for November.
- SHOP NOVEMBER BIRTHSTONE JEWELRY HERE -
December: Blue Zircon
Also known as 'Starlite', Blue Zircon is the birthstone for December. This gemstone is considered to help one clear their mind, bringing back purity and warding away bad entities. It is also considered to give its wearer clarity, helping them to remember forgotten wishes and understand their true feelings, and is said to be particularly helpful in combating self-esteem issues. 
NOTE: Tanzanite and Turquoise are also considered to be gemstones for December.
- SHOP DECEMBER BIRTHSTONE JEWELRY HERE -
We hope that you enjoyed our Birthstone Guide. 
Check out our Birthstone collections here! 
What's your birthstone? Connect with us on Facebook, Instagram or Twitter!