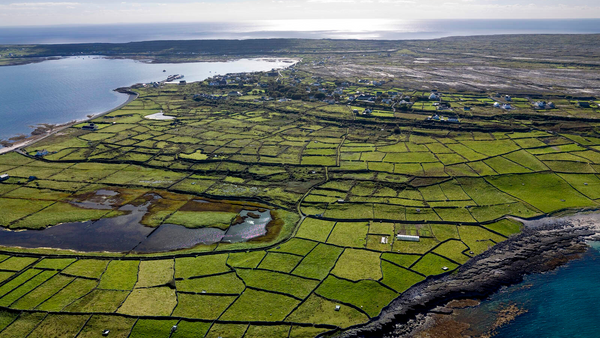 The Origin of Aran Knitting
Ireland has some of the richest craftsmanship that is highly adored by many worldwide, especially those looking for a small piece of home. 
Aran knitting is one of the many crafts that was developed by some of the most skilled craftswomen in the early 1900s and has since become one of the most world-renowned stitches associated with Irish fashion. 
This classic style of Irish knitting has since evolved into extensive product ranges from sweaters to half-zips, cardigans, hats and scarves, continuing to support the legacy and craftsmanship deeply ingrained in every stitch. 
Where did Aran Knitting originate?
The name itself lends its hand to where this famous knitting technique developed, the Aran Islands, located off the West Coast of Ireland near County Galway. 
As a country that had a robust agricultural focus for centuries, it was commonplace for many craftspeople to utilise the nature around them to facilitate their crafting. 
Farming had previously been a prevalent profession in Irish society with many farmers' having a variety of job responsibilities, one of which involved rearing animals for their products, including sheep for their wool. This wool was the element that made their crafts so special.
The wool that was used to create these beautiful quality sweaters was called unwashed báinín. This wool would be used completely untouched as otherwise, it would lose the natural components present in the wool such as lanolin and wax, which made these sweaters perfect for the weather conditions in Ireland.
In particular, many women would craft incredible knitwear and give them to fishermen going out to sea who would face tough weather conditions, making these 100% natural sweaters the perfect item of clothing to wear to work each day. 
This practice was so common that an Aran sweater often became referred to as a 'fisherman's sweater'.
The Development of Patterns
As aran knitting developed as a concept within Irish society, many women created knitting patterns that they could integrate into their sweaters, providing an additional level of meaning and personalisation to their craftsmanship. Today we can now look at the stitches in aran knitting and understand their stories.


Types of Aran Stitches 
Aran knitting consists of nine main types of stitches, each with its meaning straight from the past. 
Blackberry
The Blackberry stitch is crafted using taking three stitches and knitting them together as one. Many have said that this stitch is religiously significant and is representative of the Holy Trinity in respect of the knitting process to create it.
Tree of Life
The Tree of Life stitch has a beautifully wholesome meaning deeply ingrained in this knitting pattern. Typically, this stitch would be used to bestow the wish of a long and happy life to the wearer of the garment. It has also been said to be representative of the cycle of life and the changes and growth we embark on throughout our lives. 
Cable
The Cable stitch is one of the most well-known and prominent stitches within aran knitting.  As the cable stitch creates the illusion of a rope, the meaning of the stitch became representative of the ropes used by fishing crews, hoping to bestow good luck and safety to crew-mates.
Diamond
The Diamond stitch also has a symbolic meaning associated with Irish fishermen. The stitch pays homage to the trade by creating the look of fishing nets used by fishermen. In addition, it is also claimed to symbolise wealth and success to those who wear it.
Moss
The Moss stitch is often used in combination with the Diamond stitch when creating knitted sweaters, to fill the centre and surrounding areas of the Diamond. The moss stitch, along with many others, has a meaning of its own - abundance and growth.
Zig Zag 
The Zig-Zag stitch aims to represent the journey of married couples. The meaning of this stitch has often been associated with showcasing the highs and lows or peaks and troughs of married life. 
Basket
With fishing having a strong influence when creating aran sweaters, many of the stitches continue to represent the hard work of fishermen out at sea. As another example, the Basket stitch was crafted with the wish and good intention for fishermen to have a plentiful catch, by crafting a stitch that looks like a weaved basket. 
Honeycomb 
It comes as no surprise that nature and agriculture played a huge role in the lives of Irish people, with the Aran Islands being no exception. People had a deep appreciation and respect for nature, and this can be seen in the Honeycomb stitch. Acknowledging the work of bees across the Island, this stitch was created to symbolise hard work and dedication.
Trellis 
Keeping to the theme of nature and upholding great respect for the world they lived in, the trellis pattern of Aran Knitting has been said to have been created to represent the extensive stone-filled fields spanning across the Aran Islands.
Undoubtedly, aran knitting has well and truly become a staple fashion piece in the wardrobes of many across the world, including some iconic celebrity wardrobes. 
The popularity of aran sweaters increased exponentially after the first sweater was featured in Vogue in 1956 and has since evolved into worldwide fame. 
Over the decades, we have seen aran sweaters worn by a wide variety of celebrities, some of which include Elvis Presley, Steve McQueen and Marilyn Monroe. 
More recently, Taylor Swift was pictured wearing an aran sweater to promote her album 'Folklore' in addition to Chris Evans featuring the Irish craftsmanship in the movie 'Knives Out.'
 _______________________________________________
We hope you have enjoyed reading our blog on 'The Origin of Aran Knitting'. 
The craftsmanship that has gone into and continues to go into aran knitting is outstanding and we are grateful to be able to help you learn a small snippet about some of Ireland's richest history.
What's your favourite kind of stitch? Do you own an aran sweater of your own? Check out ours now! Connect with us on Facebook, Instagram or Twitter!