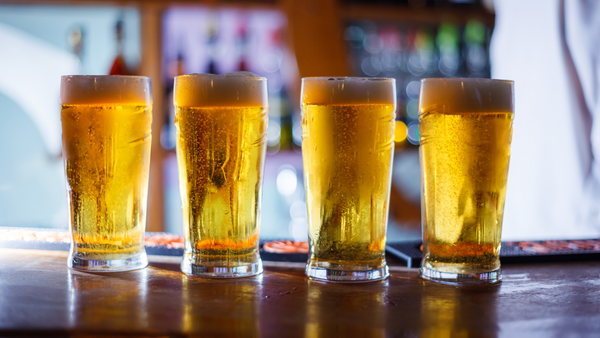 5 Best Irish Beers - International Beer Day 2022
It's International Beer Day today - not that we ever need an excuse to enjoy a hearty cold beer here in Ireland! This day is all about getting together with friends and family, celebrating beers around the world, and paying tribute to hard-working brewers and barmen. We want to mark this occasion by sharing our top Irish beers.
Ireland is famous for its word-class, quality tasting beers, and beer-tasting alone is a must-do for those visiting the Emerald Isle.
To mark International Beer Day 2022, we are excited to share with you our Top 5 Irish Beers list - our favourite brews from around the island of Ireland. Our mouths are watering just thinking about them... without further ado:
5. Smithwicks Ale
This ruby red ale is known as Ireland's most loved ale. Dating back over 300 years, this beer is a blend of bitter flavour, balanced with sweet, malty undertones. Smithwicks is highly popular in Ireland and is a great beer to start with if unsure of what to try. Over the years Smithwicks has launched two new beers- a Pale Ale and Blonde Ale.  
4. Harp Lager
A perfect summer beer, Harp has everything you would hope for in a traditional lager and is best enjoyed ice cold. For our friends across the pond, Harp is brewed and sold in North America - you might even come across it! Harp Lager has an initial bitterness on the first taste but ends on a refreshing, thirst-quenching note. Harp is a hands-down crowd pleaser for all.  
3. Hop House 13
A newer brew compared to the others - Hop House 13 is a taste of modern Ireland that remains true to its roots, too. Popular among young and old, this beer is famous for its characteristic hints of apricot and peach. Hop House 13 has become a favourite among Irish pub-goers and most publicans serve this hoppy, aromatic brew on draught across the country. This is one to look out for!  
2. O'Hara's Craft Lager
O'Hara's Craft Lager This lager is made in the family brewery in Ireland's traditional malt-growing region, Barrow Valley. Hopped several times, this beer has a unique blend of textures and aromas. O'Hara's Craft Lager is ideal for those who want something a little different, and the lager has a considerable bitterness with a clean, balanced finish.
1. Guinness
You didn't think we'd leave it out, did you? Some may consider this to be less of a beer and more of a stout, but this drink and Irish culture go hand in hand. Guinness is unlike the other beers listed here as it is a dark Irish dry stout, but it is famous for its distinctively dark appearance and rich, creamy white head. This is the best selling alcoholic drink in Ireland and a favourite amongst visitors to the country. With a coffee and malty aroma, this well-known stout has a bitter and sweet balance, made up of malt and roast flavours.