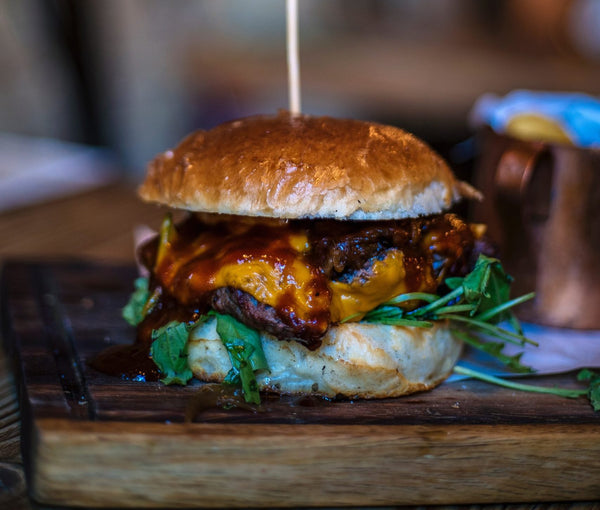 Guinness Burgers with Irish Cheese and Bacon
What gives these burgers the unique Irish taste is Guinness (of course). Don't worry, this has been taste-tested and even those who aren't the biggest Guinness fans, love these burgers (we won't spoil International Burger Day for anyone). This recipe calls for 60 millilitres of the black stuff, so there isn't an overpowering taste but provides a nice undercurrent flavour that blends beautifully with the garlic, onions and dijon mustard.
Tips for International Burger Day better
 We recommend that you grill these burgers, not only does it add to the flavour but it would be a sin to get the most out of this weather! Now, these burgers are a little loose, because of the extra liquid from the Guinness so be careful when adding them to the BBQ. Want to use the leftover Guinness? Why not make these gorgeous brownies.  
Guinness Burgers with Irish Cheese and Bacon Recipe
Now for the good stuff! Here is our favourite Guinness Burgers Recipe in celebration of International Burger Day. This recipe makes 4 burgers double up ingredients to make 8 if needed.
Ingredients:
450 grams minced (ground) Beef
3 tablespoons finely minced onion
1 garlic clove, minced
2 teaspoons Dijon mustard
60 ml cup Guinness beer
5 ml olive oil
Salt
Pepper
Extra oil
4 slices cheddar cheese, preferably Irish cheddar (See some good ones here)
8 slices thick-cut bacon (cooked)
Irish salted butter (our favourite is Kerrygold) for the buns
Burger Buns (if you wanted to have the authentic Irish experience, you could make your own Blaa's)
Instructions:
Combine ingredients from the ground beef through to pepper in a large bowl and gently mix with your hands. Be careful not to overwork the meat or it will become tough.
Create 4 equal patties and place on a small sheet pan. Refrigerate for 1 hour.
Add to BBQ when the flames have died down a bit or if grilling (preheat to medium-high) Make sure the cooking grates are slightly oiled so that the burgers don't stick. Grill to the desired level of doneness, placing cheese on for the last minute or two of grilling. Place burgers on Blaa's or buns and top with bacon.
Serve immediately.
That's it! We told you it was going to be easy.
Notes:
This recipe contains Gluten. Tag us on
Facebook
and
Instagram
with your burger creations, we would love to see your twists. If you have your own recipe that you'd like to share with us,
send it
to us and we'll be more than happy to make it and try it out!